I can't believe someone is blogging about my blog already! When I found out I had a huge smile on my face. Because even though I do this for myself, I also do it in the hopes that I write things that like minded people are interested in reading. I mean that's what blogs are all about right? Right! We wouldn't be sharing info on the internet if we didn't want people to read it! :P
So I got a comment from a women whose blog I follow letting me know about this! Click the picture to give her blog a peek!.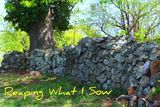 I must say thank you to her for telling me and for following me back! It means a lot to a newbie like me. :) We share some common interests in life which is why I started following her in the first place!
But she told me I was mentioned on Blogs Worth Blogging About from
http://myecofamily.blogspot.com/
who I am of course following now too as I see we also seem to have many things in common. Check out her blog and read her nice comment about mine
HERE
! Thanks for following me as well mama!
I really do love this new blog world I have entered into! I get to share what I want and I can read so much more from others!
Thought I would end this post with a picture of my sweet, chubby, smiling baby :)